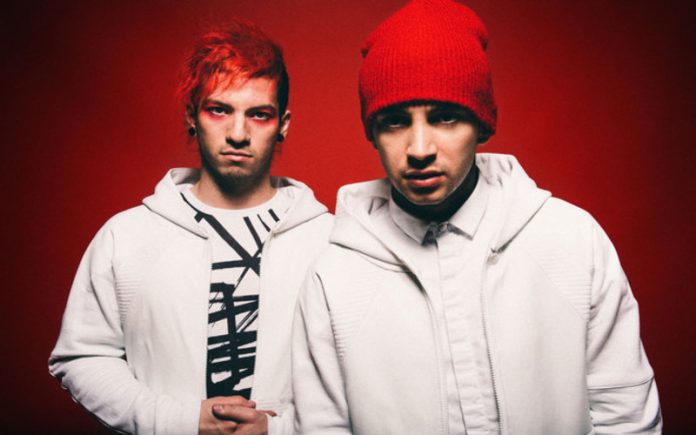 While Twenty One Pilots were playing "Car Radio" during their set at Reading and Leeds singer Tyler Joseph made his way into the crowd. Tyler was trying to crowd surf to a platform that was set up in the crowd, but it took him a while to get there.
When Tyler made his way into the audience and his shirt was torn to shreds, his mask was stolen, and he was even dropped at one point. Despite the rough ride, Tyler still made his way out to the platform.
One fan tried to break down the incident on social media, saying that it's all a misunderstanding, and the crowd wasn't malicious. According to the fan there weren't enough people to hold Tyler up in the area he was in, and as he was falling, they all grabbed his shirt to try and pull him up.
It's clear to see that Tyler is a little shook-up when he reaches the top of the platform. But despite the battle he had to endure to get to where he needed to go, he still thanked everyone for watching the show before Twenty One Pilots ended their set.
"We gotta be done. Josh that's it," Tyler said before the show ended. You can check out a video below.
Many fans on social media have made it a point to defend Tyler, saying that he would stop a show if a fan were in a similar situation.
I'LL CRY, HE IS SO CUTE WITH US, YOU SHOULD SHOW RESPECT TO HIM #RespectTylerJoseph pic.twitter.com/tAKIcQ9qcx

— Adri (@stoplouis_) August 27, 2016
The good news is that he appears to be ok, and the band is receiving rave reviews for their performance at Reading and Leeds.