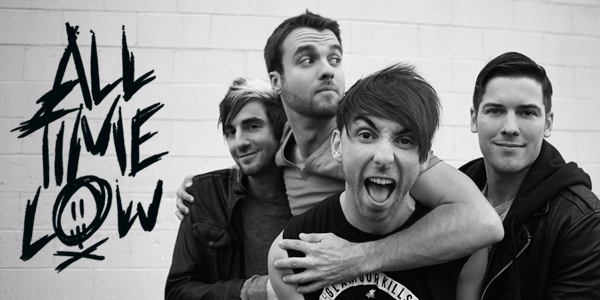 All Time Low will be releasing "Last Young Renegade" on June 2, 2017, and they recently unleashed the first single "Dirty Laundry" on the world.
Last month the band played a show at London's Hammersmith Apollo, and they rocked their latest single for the fans in attendance.
Fans have come to expect high energy performances from all time low, and this one is no exception. Check out "Dirty Laundry" in the video clip below.
You can also check out the band's upcoming tour dates below:
MAY 10 POWERSTATION AUCKLAND, NEW ZEALAND
MAY 12 RIVERSTAGE BRISBANE, AUSTRALIA
MAY 13 HORDERN PAVILION MOORE PARK, AUSTRALIA
MAY 14 FESTIVAL HALL MELBOURNE, AUSTRALIA
MAY 16 THEBARTON THEATRE ADELAIDE, AUSTRALIA
MAY 18 METROPOLIS FREMANTLE, AUSTRALIA
MAY 19 METROPOLIS FREMANTLE, AUSTRALIA
MAY 22 CLUB QUATTRO NAGOYA-SHI, JAPAN
MAY 23 BIGCAT OSAKA, JAPAN
MAY 24 BLITZ AKASAKA, JAPAN
JUN 30 HOUSE OF BLUES HOUSTON, TX
JUL 01 HOUSE OF BLUES DALLAS, TX
JUL 03 THE MARQUEE TEMPE, AZ
JUL 05 HOUSE OF BLUES ANAHEIM, CA
JUL 07 THE NOVO LOS ANGELES, CA
JUL 08 FOX THEATER OAKLAND, CA
JUL 10 ROSELAND THEATER PORTLAND, OR
JUL 11 SHOWBOX SODO SEATTLE, WA
JUL 13 THE COMPLEX SALT LAKE CITY, UT
JUL 14 FILLMORE AUDITORIUM DENVER, CO
JUL 15 UPTOWN THEATER KANSAS CITY, MO
JUL 16 PALACE THEATRE ST. PAUL, MN
JUL 18 THE PAGEANT ST. LOUIS, MO
JUL 20 ROYAL OAK MUSIC THEATRE ROYAL OAK, MI
JUL 21 ARAGON BALLROOM CHICAGO, IL
JUL 22 EAGLES BALLROOM MILWAUKEE, WI
JUL 23 EXPRESS LIVE! OUTDOOR AMPHITHEATRE COLUMBUS, OH
JUL 25 STAGE AE – OUTDOORS PITTSBURGH, PA
JUL 26 RAPIDS THEATRE NIAGARA FALLS, NY
JUL 28 HOUSE OF BLUES BOSTON, MA
JUL 29 THE FILLMORE PHILADELPHIA, PA
JUL 30 THE FILLMORE PHILADELPHIA, PA
JUL 31 CENTRAL PARK SUMMERSTAGE NEW YORK, NY
AUG 02 RAMS HEAD LIVE BALTIMORE, MD
AUG 03 RAMS HEAD LIVE BALTIMORE, MD
AUG 04 THE RITZ RALEIGH, NC
AUG 05 TABERNACLE ATLANTA, GA
AUG 06 HOUSE OF BLUES LAKE BUENA VISTA, FL
AUG 07 HOUSE OF BLUES LAKE BUENA VISTA, FL
AUG 22 MALL OF ASIA ARENA MAKATI, PHILIPPINES
SEP 23 DAYTIME VILLAGE AT THE IHEARTRADIO