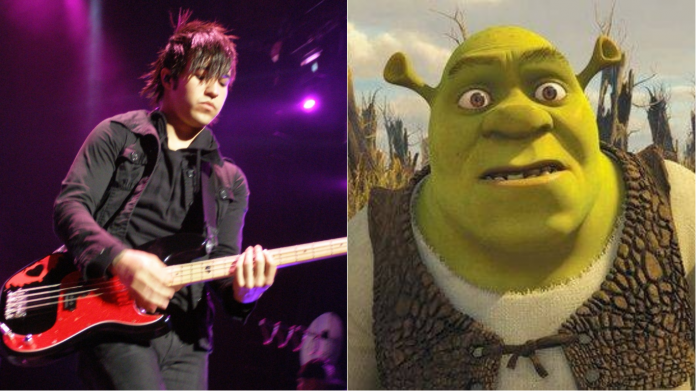 Fall Out Boy's "Immortals" was a huge part of the "Big Hero 6" soundtrack, but Pete Wentz recently revealed during an appearance on Dax Shepard's podcast that the band also wrote a song for "Shrek" which didn't make it into the film. Naturally, fans had questions regarding which song it was, and Pete confirmed on Twitter that it was "Bang The Doldrums."
The shrek song is old- it was "bang the doldrums" they just didn't like it for the movie… prob not a llamania 2 but maybe something different- no idea yet.

— pw (@petewentz) March 7, 2018
"Bang The Doldrums" was eventually released as it appeared on Fall Out Boy's 2007 album "Infinity On High" but fans had some interesting reactions to the reveal.
i'm truly shaken there's another universe where fall out boy had a song in shrek

— amber (@heartsigh_s) March 8, 2018
this is the literal worst timeline. fall out boy originally wrote bang the doldrums for shrek. my whole life is a lie https://t.co/lZmy8INsA8

— ღ ☄🌂💙 @ katsudone (@_cancerously) March 8, 2018
one of my fav fall out boy songs was almost in shrek this is honestly the crossover of my dreams https://t.co/iFX2Nbcm58

— donnie darko (@mo11yhaines) March 8, 2018
Bang The Doldrums Was Originally Made For Shrek But Was Rejected

by Fall Out Boy

— bang the doldrums was originally made for shrek (@fobdreamer) March 8, 2018
petition for @falloutboy to write a song for shrek 5

— ari who? (@caffeinechilled) March 8, 2018
fall out boy….wrote….bang the doldrums………….for shrek

— laurel (@releasethedoves) March 7, 2018
It's certainly interesting to think about the fact that we almost ended up in a timeline where Fall Out Boy's "Bang The Doldrums" appeared in "Shrek" and now we'll always wonder what could have been.