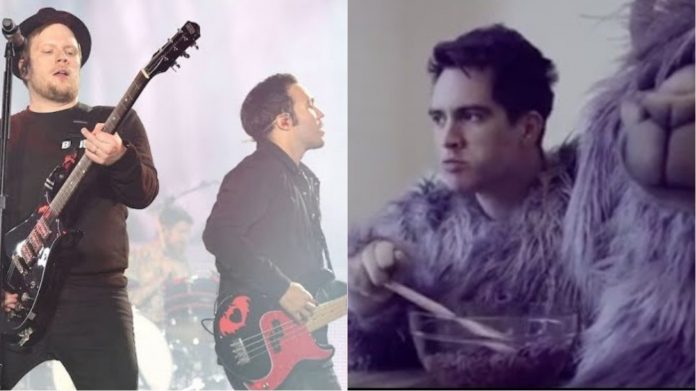 The member of Fall Out Boy and Brendon Urie certainly aren't strangers. Pete Wentz played a big part in helping Brendon Urie's musical career take off, and they've collaborated in the past.
Brendon Urie lent his vocals to the song "Twenty Dollar Nosebleed" from the band's 2008 album "Folie a Deux" and it's been rumored that he could be singing on a track on the new Fall Out Boy album.
Pete Wentz recently did an interview with SiriusXM, and he noted that as of right now Urie isn't set to appear on the album, but the door is always open for a collaboration.
"No, I don't think so," Wentz said via Rock Sound. "The door is always open y'know? I think that it happened because, like his buddy Zack asked me a question when I was just goofin' around on Twitter and I said something dumb, so it just kinda ran away."
So, according to Pete Wentz, Brendon Urie won't be appearing on "MAN I A." But then again, Fall Out Boy love to keep their secrets close, so there's always a possibility that Pete Wentz could be trying to deflect the rumors for now.
The only thing that's sure about Fall Out Boy is that nothing's for sure.