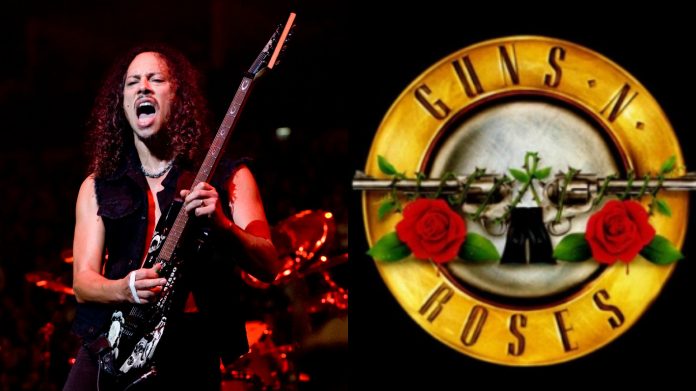 It's been a big year Guns N' Roses. Some the key Guns N' Roses members reunited, and took the country by storm with a long awaited stadium tour. Fans were thrilled to see Axl, Slash and Duff together on stage together once again, because for a long time it seemed like it would never happen.
Metallica and Guns N' Roses definitely aren't strangers, and Metallica guitarist Kirk Hammett recently spoke out about the Guns N' Roses reunion. During an interview with the LA Times, Hammett commented on the fact that Guns didn't bring any new material out on the road for their big tour this year.
"Unfortunately, they've turned into somewhat of a nostalgia act, which to me is kind of sad," Hammett said.
It remains to be seen if the reunited members of Guns N' Roses will be working on any new material together, but as for Metallica, the band is set to release their new album this Friday.
James Hetfield also spoke with the LA Times, and he noted that creating new music keeps the band young.
"I don't want to think we're trying to stay young by writing new stuff, but it makes us feel relevant," said frontman James Hetfield. "It makes us feel like we're still progressing."