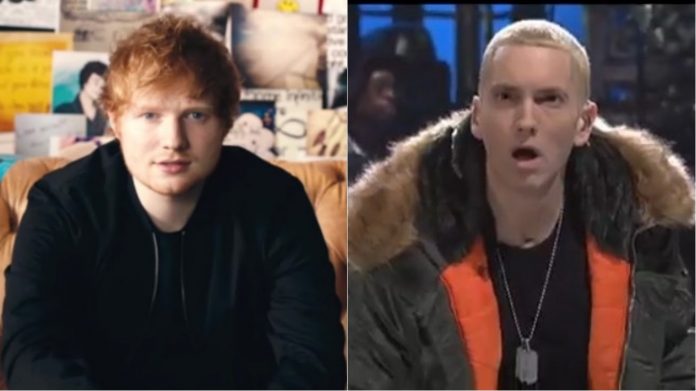 Eminem is back and his new album "Revival" is set to feature collaborations with some big names in the music world.
Ed Sheeran is one of those names and he recently opened up about how the collaboration came together. Sheeran says he was traveling and he got an email from Eminem's manager asking for ideas.
The singer/songwriter also admitted that he already had some ideas in mind in case he ever got the chance to work with Eminem. He says that Russel Crowe offered up his house while he was in Australia, and he used Crowes studio to record a track.
"I was traveling Australia, and Russell Crowe has this big house," Sheeran revealed to Billboard via Complex. "I got an email from Paul Rosenberg—Eminem's manager—and he says, 'We're gonna start putting the album together. Send in any ideas.'"
Sheeran then sent in his song "River" which he played drums, piano and guitar on, but he didn't head anything back about the track until he ran into a friend a year later.
"My mate Emile, who produces a lot for Eminem is like, 'Oh, I've done some drums and stuff on the "River" song that you wrote,'" Sheeran said. "I was like, 'Oh, cool. Are you gonna send it to him?'"
He was then informed that Eminem had tweaked the song and dropped some verses.
Sheeran didn't actually end up meeting Eminem until after the collaboration was already done.
"Revival" will be released on December 15, 2017.