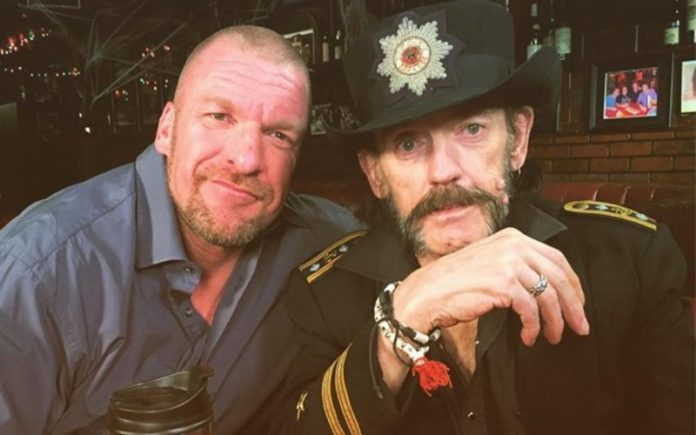 The world lost an icon in December of 2015 when Lemmy Kilmister of Motorhead passed away. Although Lemmy is no longer with us, he's far from forgotten. Lemmy's memory lives on in the hearts of his fans and there are many people out there that are making sure his legacy lives on as well.
The lovely folks at Metal Hammer decided to present the first ever Spirit of Lemmy Award at this year's Download Festival and they enlisted a special person to present the award to a special recipient. Dave Mustaine of Megadeth handed out the first Spirit of Lemmy Award at the Download Festival and he presented it to none other than 14 time WWE World Heavyweight Champion Triple H.
Triple H and Lemmy were good friends and Motorhead played on several entrance songs that Triple H has used throughout the years. The WWE star was thrilled to receive the award and he told the crowd that they are the true spirit of Lemmy.
"Having Dave give me this award is a dream come true. Standing on the Lemmy Stage, named after one of my great friends and being given the Spirit Of Lemmy Award is amazing. I can feel Lemmy here right now, sitting up on that black cloud over there – drinking a Jack and Coke, probably. The true Spirit Of Lemmy is this f**king crowd right here."
https://twitter.com/MetalHammer/status/741678935705063424
Humbled and honored. Thank you @MetalHammer. #SpiritOfLemmy #GoldenGods @myMotorhead pic.twitter.com/iEu8BKTQJZ

— Triple H (@TripleH) June 11, 2016
https://twitter.com/MetalHammer/status/741687494094278657
#ThankYouLemmy @WWE pic.twitter.com/2UkVV5GS8f

— WWE UK (@WWEUK) June 11, 2016