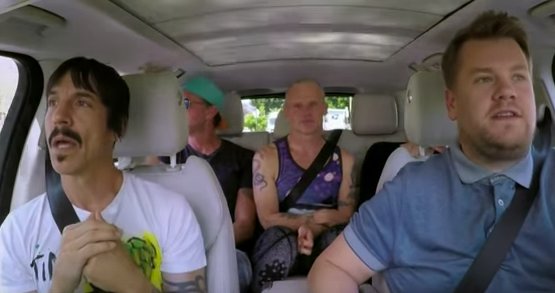 The Red Hot Chili Peppers recently filmed a "Carpool Karaoke" segment for an episode of "The Late Late Show With James Corden" and over the past few days the video has gone viral. With James Corden behind the wheel the band rocked out to classic RHCP songs such as "Give It Away" and "Californication" and at one point Corden, Kiedis and Flea lose their shirts for some reason.
The video was a lot of fun to watch and it looks like everyone involved had a good time making it. But something strange happened behind the scenes while it was being filmed and Anthony Kiedis recently talked about it with Radio X.
According to Kiedis everyone was having a dance off and a woman came out of her house screaming about how her baby wasn't breathing. Kiedis and company then ran over to the woman and the baby and Kiedis tried to perform CPR on the child. He says the child's mouth was locked shut so he rubbed his belly and then bubbles started coming out of the baby's mouth and its eyes rolled back into place. He says an ambulance then arrived and he handed the baby over to the professionals.
Anthony Kiedis did an incredible thing, but according to him, he's no hero, he was just trying to participate in a dance off. You can see Kiedis tell the whole story in the clip below.
Anthony Kiedis saved a baby during Carpool Karaoke. This is incredible! https://t.co/9ZfxoRkOBr

— Radio X (@RadioX) June 16, 2016