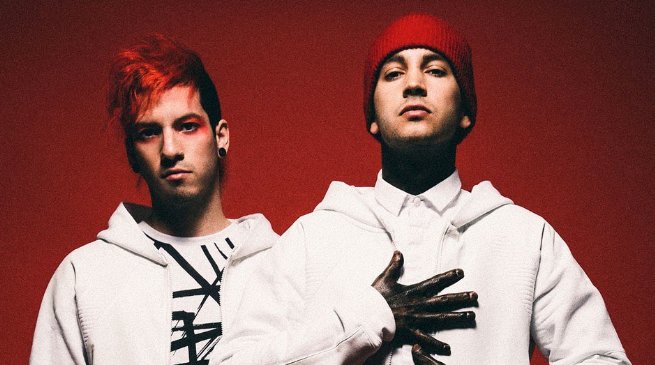 Twenty One Pilots are currently smack dab in the middle of Tour De Columbus. The band kicked things off a few days ago at a venue called The Basement which holds 300 people before taking things up a notch the next night at the Newport Music Hall which holds 1,700 people.
These Tour De Columbus shows are pretty important to Twenty One Pilots fans, and 5,200 of them recently lined up to attend the Thursday night show at Express Live. The fans didn't just line up, they lined up very early to try and get a good spot, and many of them camped out across the street as they weren't allowed to camp at the venue.
When fans were officially allowed to start lining up, things went haywire and everyone rushed to the venue to try and get in line first. Unfortunately all of the fans created a human stampede that turned into a bit of a disaster for the fans and everyone else around them.
As you can see below, fans flooded the streets and took over the area completely as they rushed to get in line.
this is how to NOT get in line for #TourDeExpress #TDCexpress

stay calm, it's being sorted out

via: @Anival0

— Tour De Columbus (@tourde_CBUS) June 22, 2017
Fans started running toward the venue through traffic at 6am, and a few fans are saying they ended up getting injured.
i got crushed against a POLICE! CAR! https://t.co/g4rWpMH4Sy

— moonlight • today (@kiaraiannone) June 22, 2017
There was a massive stampede for express live and parents were fighting and people got hurt, the line is a mess too w people trying to skip

— emma (@bowtiejosh) June 22, 2017
risks of camping: someone asks you for spare change at 4 am
risks of arriving all at once: literal stampedes, multiple injuries

— toby (@tobyonepilots) June 22, 2017
Fans aren't too thrilled about how the line situation was handled, and people on social media are criticizing the venue for not coming up with a plan ahead of time.
and guess what, everyone!!! no one would've gotten hurt with an unofficial line system moving over to the venue, calmly. https://t.co/j0zqV7zH4u

— kaylea | EXPRESS (@kayleatattoli) June 22, 2017
express live is the messiest event i've ever seen. lines were not honored. everyone running into each other in crowds.

— timmy TODAY (@kitchnsnnk) June 22, 2017
they're literally spraying some people with cold water. we are being treated like actual animals

— jacy. EXPRESS TODAY! (@sunsetsleeve) June 22, 2017
Clique is in jail party #TourDeExpress pic.twitter.com/sm3e8oozcV

— emmy • LC TODAY❕ (@907bis) June 22, 2017
Despite all the chaos, it's safe to say that every Twenty One Pilots fan wants to be at one of these Tour De Columbus shows, so you're going to one remember to keep calm and try to avoid stampedes.