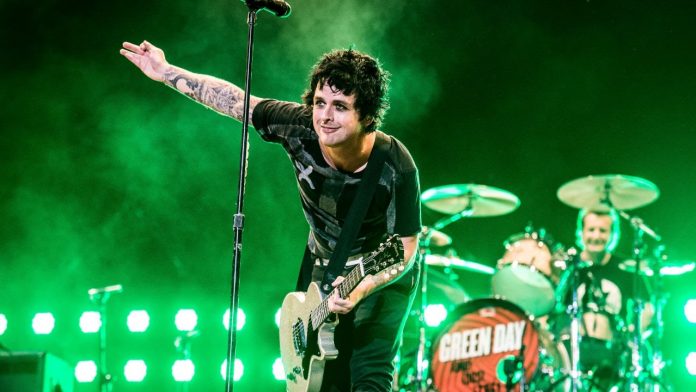 Green Day were supposed to play a show at Bellahouston Park in Glasgow, Scotland recently, but the show was cancelled after the stage was deemed unsafe. Green Day released the following statement explaining the situation:
"Glasgow, we are very sad to report that our show today at Bellahouston Park has been cancelled. The local safety council, production crew, and concert organizers have deemed the stage unsafe for the fans and everyone involved. We are very distraught about this as we are in Glasgow now and were very much looking forward to this show as one the highlights of our tour. We have been playing in extreme weather conditions throughout this European tour, and the last thing we want to do is see a show cancelled. We love our Scottish fans and we don't care if its raining fucking sideways, although the safety of our fans and our crew is always our top priority. We love you Scotland, we love the city of Glasgow and it goes without saying that WE WILL BE BACK!"
Fans obviously weren't happy about the fact that the show got cancelled, so they decided if they couldn't see a Green Day show, then they would bring a show to Green Day. Quite a few fans took to the streets and decided to sing Green Day songs to the members of Green Day outside their hotel. It was actually a pretty awesome moment, and you can check out a few clips below.
American Idiot:
Serenading @GreenDay on #Glasgow after gig cancelled. #Greenday. pic.twitter.com/jD9dbcB3Aw

— SamanthaGirvan (@SamanthaGirvan) July 4, 2017
Still Breathing:
Greenday fans sit outside the hotel singing to @GreenDay #Greenday #Glasgow pic.twitter.com/gdV9wk2KgJ

— SamanthaGirvan (@SamanthaGirvan) July 4, 2017