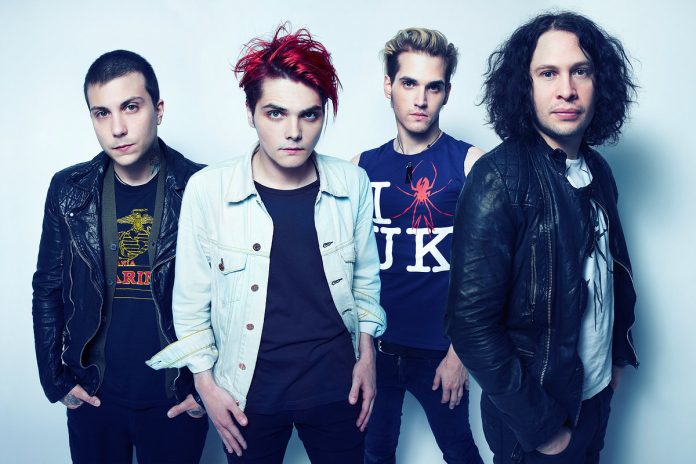 My Chemical Romance have no plans to reunite. It's a sad fact, but it's a fact that we've all come to accept. However, their fans don't want to let them go, and one fan played an awful prank on everyone else when they somehow got #WelcomeBackMyChemicalRomance to trend on Twitter.
Obviously when people saw the hashtag trending they had to investigate, but they did not find what they were looking for.
The internet is now happy about the #WelcomeBackMyChemicalRomance hashtag, and you can see the reactions below.
If MCR ever does get together (doubt it), we'll all have trust issues because of things like#WelcomeBackMyChemicalRomance

Geez, thanks!

— Gerard Way Best way (@GeeWayBestWay) April 26, 2017
my reaction when I found out this trend was fake #welcomebackmychemicalromance pic.twitter.com/jBQzmKMXb3

— Eli McKenzie (@EliMckenziie) April 26, 2017
#welcomebackmychemicalromance
Raise your hand if you feel personally victimised by this trend pic.twitter.com/ZwgClMN05m

— Katie (@HoinHowell) April 26, 2017
Even though i KNOW the words #WelcomeBackMyChemicalRomance shall never be said truthfully, i still get trolled and react like: pic.twitter.com/eaAeVyZhJ6

— .Cameron Sanderson. (@CallMeCameron) April 26, 2017
https://twitter.com/Smiley_Polkadot/status/857316576491708417
person: #WelcomeBackMyChemicalRomance
me: pic.twitter.com/UTBPahMuFg

— :): (@KorthomHugs) April 26, 2017
#WelcomeBackMyChemicalRomance came on my timeline, freaked out and then found out it's a lie and I'm just likepic.twitter.com/TrqtjpRMk4

— FRAN❥ (@franalibi) April 26, 2017
Whoever started #WelcomeBackMyChemicalRomance, pic.twitter.com/NFQNRybADC

— Unnecessary (@EmoTrinityQueen) April 27, 2017
Me seeing #WelcomeBackMyChemicalRomance is trending: pic.twitter.com/65UBwtyGyN

— Fairy Squad Mother (@carrey2depp) April 26, 2017
https://twitter.com/emma_morandi/status/857317551424114688