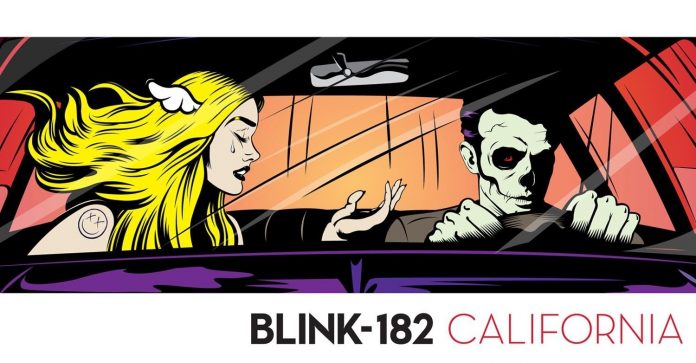 It's been a strange couple of years for Blink-182 and Blink-182 fans. Back in 2009 we were all cheering as the band reunited and hit the road to tour once again. A few years later "Neighborhoods" dropped in 2011 and it seemed that everything was right in the world.
But things weren't good in Blink and the cracks began to show and after a while Tom DeLonge started to once again distance himself from the band. Blink has now moved on without Tom, who according to himself, never left the band.
After years of inner band turmoil and a whole lot of, "Will they or won't they?" in regards to a new album, I admittedly started to lose interest in the band because it seemed like a waste of time to get emotionally invested in something that wasn't going to happen. It hurts to type that because I love Blink-182 with every bone in my body and they've been a huge part of my life, but the drama definitely took a toll on everyone including the fans.
Matt Skiba is the elephant in the room when it comes to this album and the truth is, he sounds great. Skiba's voice isn't Tom DeLonge's and some fans will without a doubt miss the elements that Tom used to bring to Blink-182. But Skiba steps up and he gets the job done with genuine enthusiasm and if you go into the album with an open mind, you'll find a lot of things to love about his performance.
To make a cinematic comparison, "California" is essentially the "Star Wars: The Force Awakens" of the Blink-182 catalog. It uses familiar elements of the Blink-182 sound to rebuild trust with the fanbase while also pushing Blink in new directions here and there throughout the album. The result is a Blink-182 album that actually sounds like what you would expect Blink-182 to sound like in 2016.
Fans who are looking for a full album of experimental songs aren't going to find it. Likewise, fans who are looking for a full album of "classic Blink" songs aren't going to find that either. The album truly takes the band back to its roots while also pushing it in new directions. It's a nice move and it works.
The album opens with Mark Hoppus letting some dissonant bass chords ring out as he sings, "There's a cynical feeling saying I should give up, you've said everything you'll ever say," but he hasn't said everything, not yet. The somber sounds at the beginning of the song are a nice way to ease the listener into the experience, but the track quickly picks up with a driving pop-punk beat that is unmistakably played by Travis Barker. "Cynical" is very much a reminder that Blink-182 is not dead and there's a lot of life and energy within the band.
There's a quick pause in the beginning of the song where you can hear someone say, "Ahhh!" John Feldman explained to Fuse that Travis insisted that he record the song in one take and this happened to be his third attempt.
Barker thought he had screwed up so what you're hearing is Barker's legitimate reaction to what he thought was a mistake. Feldman left it in and in some ways it truly captures the spirit of the album. This is Blink-182, trying to have fun being Blink-182 again.
The opening track isn't just an introduction, it's a declaration and it's a fight song. "I'm not sorry, I'm not sorry now," Matt Skiba sings as the track rings out.
"Bored to Death" manages to sum up "California" as a whole. It's dark, it's melancholy, it's upbeat, it's catchy, it's hopeful and it's all those things wrapped into one.
"She's out of Her Mind" has no shame about calling back to the "Take Off Your Pants and Jacket" era Blink sound. The track plays out like familiar tracks such as "First Date" and "The Rock Show."
It's a Blink song, about girls, perfect for summer and perfect when you just want an upbeat pop-punk song. The track is very Blink-182, but as the song is coming to a close Matt Skiba throws in a quick pop-punk guitar lick that sounds more Alkaline Trio than Blink.
From there things get a little bit more experimental as "Los Angeles" takes the album to darker territory. The song starts with an electronic drum beat along with some haunting "Neighborhoods" era space sounds.
"Los Angeles" takes the band into new territory and it truly presents fans with a Blink-182 they haven't heard before. John Feldman is known for his big production style and for much of this album he remains conservative. But Feldman lets loose on this track and it really helps to push the song forward. It's new Blink, it will raise your eyebrows and it will make you wonder if you want to hear more.
"Sober" is a collaboration between Blink-182 and Fall Out Boy frontman Patrick Stump. The question Patrick wanted to answer with the song was, "What could Blink be on modern rock radio in 2016?"
The result is a very Fall Out Boy-esque sounding Blink-182 song, which is either a good thing or bad thing depending on how you feel about Fall Out Boy. I personally love the band and Patrick Stump's work so I enjoyed it. The track sounds big with a great hook in the chorus and a roaring "Na Na Na" sing-a-long at the end.
"Built This Pool" is just a quick track about Mark building a pool and wanting to see some naked dudes. Just another sign that yes, this is truly a Blink-182 album.
"No Future" is a song that actually got cut from the album at one point and it's a good thing it didn't. It's another song that leans on the familiar elements of the Blink sound, but Matt Skiba really makes the bridge his own and gives the track a little something special when it needs it.
"Home Is Such a Lonely Place" then comes out of nowhere and takes the album in a very unexpected direction. Mark Hoppus presented the idea for the track, and the song is from a parent's point of view as they look at their home after their kids have grown up and moved out. Blink-182 straight up drops a ballad and the best way to describe the song is to simply say it's beautiful.
The song is another one that really pushes Blink in a new direction as Matt Skiba sings, "I wish that we could save today, but I know we can't stay the same." The lyrics almost have a double meaning as Blink presents what is arguably their most sensitive and tender song to date.
"Kings of the Weekend" picks things back up again getting back to form with a chugging pop-punk verse followed by an upbeat chorus. Hoppus and Skiba sing for the working man with a song about partying through the weekend then returning to life as normal on Monday.
It's not lyrically deep and it's not going to change your life, but "Kings of the Weekend" is a very necessary component of "California" as all of the upbeat pop-punk songs are. This is Blink-182, their sound has never been broken so there's no reason to fix it.
"Teenage Satellites" is a track where Mark Hoppus and Matt Skiba find a really good dynamic but for the most part Skiba gets to carry the bulk of this song which is nice. The track seems to lean on the more melancholy sounds of "California" similar to how "Bored to Death" is somewhat reminiscent of "Stay Together For The Kids."
John Feldman recently described "Left Alone" as Matt Skiba's shining moment on "California" and that seems like an appropriate description. Skiba delivers a roaring chorus that sounds like it's ripping his throat in half and it also rips your heart out in the best way possible.
At times Hoppus and Skiba sound a little too similar, but "Left Alone" really emphasizes their differences and punches you in the face when it kicks in.
"Rabbit Hole" is one of the most punk rock songs on the album. It's straight forward, it's fast and it will remind you why you fell in love with Blink-182 in the first place. "Rabbit Hole" is "classic Blink" at its best and arguably the best "classic Blink" song on the album.
The song is simple but it seems to carry an element of hopelessness and hope that creates a contrast that will stick with you long after the track is done.
"San Diego" is an homage to the band's hometown and it's bittersweet. John Feldman revealed to Fuse that he pushed Mark to write about all the things he didn't want to write about and you can feel his pain in the song.
Blink-182 is in a very different place in 2016 and no matter what happens with the band's future, they can't ever go back to what they were. It's a love letter to Blink-182's beginnings but it's a tale of a love that didn't end well.
"The Only Thing That Matters" then brings the album back up to speed with a song that once again brings Blink-182 back to their roots. The song sounds like a track that would have been right at home on "Enema of the State" and it wraps things up in just under 2 minutes.
The title track "California" is the penultimate track that plays out more like a closer than the actual closer. It's another song that delivers a more mature, more developed Blink sound. The guitar melodies and the hi-hat rhythm give the song a little bit of a "Clarity" era Jimmy Eat World sound.
If "California" were actually the album's closer, it would be considered one of their best. It has the same sort of feel as "I'm Lost Without You" from their 2003 self-titled album, but instead of being about a relationship it's a touching tribute to the band's home state and it's another song on the album that's best described as being simply beautiful.
"Brohemian Rhapsody" officially closes out the album with a 30 second joke track that's vintage Blink-182. Mark Hoppus sings, "There's something about you that I can't quite put my finger in," and those are the last words you hear before the album ends.
It's another nice reminder that this is a Blink-182 album after all and no matter what they do they're always going to be Blink.
In closing, "California" will no doubt divide Blink-182 fans due to the exclusion of Tom DeLonge. But people who go into the album with an open mind will find that "California" sounds a lot more like Blink-182 than "Neighborhoods" did and many of the tracks have a much better chance at standing the test of time.
Whereas "Neighborhoods" sounded disjointed, "California" sounds very cohesive and it truly sounds like a version of Blink-182 that actually wants to be Blink-182. The chemistry between Matt Skiba, Mark Hoppus and Travis Barker is definitely there and it works well on "California."
If anything "California" should give Blink-182 fans hope for the future. After a few false starts with Tom DeLonge over the years it seems like the band is truly back and hopefully here to stay.
You can stream the full album below.